77 FOODS
Agroalimentaire
Présentation
77 FOODS is an early-stage startup developing plant-based meat with a strong R&D component. Our goal is to bring delicious plant-based products to your table.
Our mission is to allow you to continue enjoying the delicious meals made with meat but without all the consequences for your health, global warming, biodiversity and animal welfare.
We are led by three entrepreneurs, Nicolas Schweitzer (CEO), Vincent Poulichet (CTO), and Kelly Floch (COO) and we are now a team of 10 passionate people! We would be thrilled to meet you, to learn more about your career goals and aspirations, and how you can grow with us!
Coordonnées
Adresse

25 rue saint Sébastien

Ville

PARIS

Code Postal

75011

Site internet
2 annonces
Stage - Chimie
Durée
: 6 mois
Début
: Entre aujourd'hui et février 2021
Localisation
: Paris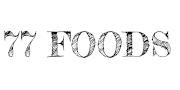 Stage - Biologie
Durée
: 6 mois
Début
: Entre aujourd'hui et février 2021
Localisation
: Paris